Copyright 2008 Free Spiritual Guidance.com   Art Licensed by Shutterstock

This Page Was Last Updated On: 6/30/2022
Groundhog Day (1993)

Bill Murray, Andie MacDowell, and Chris Elliott

The hidden spiritual advice in this movie goes beyond listing. The Universe will continue to give you the same environment, over and over again, until you learn how to correct your energy investment.  Especially true with your close relationships.

The Dead Zone (1983)

Christopher Walken, Brooke Adams, and Tom Skerritt

The first 30 minutes of this movie could have been my life.  Or my death.  If you want to understand one way people gain spiritual insights, give this classic a view.  At some point in your life you will realize an amazing spiritual power but 99.9% of you will dismiss it.  The eyes can only see what the mind can comprehend.

Phenomenon (1996)

John Travolta, Kyra Sedgwick, Forest Whitaker, and Robert Duvall

My spiritual ability came from three near death experiences, but not all in one chunk. Most of it came to me in bursts, like this movie.  If you do choose to harness the one amazing power you have, you will have an experience like this.  

City of Angels (1998)

Nicolas Cage, Meg Ryan, Andre Braugher, Dennis Franz

Guardian angels are energies that exist, but not exactly like you think.  Good lessons on spiritual laws. Excellent spiritual insights on the process of death and passing over.  There is spiritual connection to being on the beach at sunrise, although I can't hear the music.

Frailty (2001)

Bill Paxton, Matthew McConaughey, and Powers Boothe

There is "good" and "bad" spiritual energies out there.  Then there are these energies.  According to the dictionary, frailty means:  a fault due to weakness especially of moral character.  We might call them souls that have given into temptation.  Great movie that went under the radar.

Constantine (2005)

Keanu Reeves, Rachel Weisz, and Shia LaBeouf.

A great movie for learning some universal laws and what it is like to battle demons.  Demon Hunters can't be found in the Yellow Pages.  
See Supernatural
.  There is some very interesting communications at the end, especially pay attention to what the power of charity can do, and why it's the strongest in the universe.
"What's true in our minds is true, whether some people know it or not."   

-What Dreams May Come

Best Spiritual Movies

I would like to share some of the most profound spiritual movies I have seen, and tell you how I use them in my spiritual teachings.  You may have seen some of these, but I always recommend seeing them again, this time from a spiritual viewpoint.

What Dreams May Come (1998)

Robin Williams, Cuba Gooding Jr., Annabella Sciorra, and Max von Sydow

What happens when you die?  Personally I was never more alive then when I was dead.  This movie will open your eyes about heaven, hell, souls, relationships, and soul mates. It's not about how The Universe works, but more about how to use your energy in it.

The Matrix (1999)

Keanu Reeves, Laurence Fishburne, Carrie-Anne Moss, Hugo Weaving

Parts of this movie made my spine tingle pertaining to how The Universe works, and how you can manipulate it.  See it once more.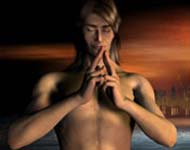 The Best Spiritual Movies
Free Spiritual Guidance

by Jordan Canon, Spiritual Advisor

Se7en (1995)

Brad Pitt, Morgan Freeman, and Gwyneth Paltrow

Two homicide detectives' desperate hunt for a serial killer who justifies his crimes as absolution for the world's ignorance of the Seven Deadly Sins.  Great movie for understanding the Seven Deadly Sins, especially if you can't list them right now.  The guy to the left is Sloth.

The Ninth Gate (2000)

Johnny Depp, Frank Langella, and Lena Olin

A rare book dealer, while seeking out the last two copies of an ancient demon text, gets drawn into a conspiracy with supernatural overtones.  The book is called 'The Nine Gates of the Kingdom of Shadows', said to have been written by the devil.  It gets much better from there.

1408 (2007)

John Cusack, Samuel L. Jackson, and Tony Shalhoub

A man who specializes in disproving the paranormal checks into the famous room 1408 in the Dolphin Hotel, and challenges the universe to bring it on.  It does bring it on, one exciting minute after the next.  Be careful what you ask for. Some rooms are locked for a reason.

Powder (1995)

Mary Steenburgen, Sean Patrick Flanery, Lance Henriksen, and Jeff Goldblum

What is it like to have metaphysical abilities and be shunned by society?  Everything comes with a price, and sometimes the price is too much for the intent of the power.  "When I look at you, I have hope that maybe one day our humanity will surpass our technology."

Jacob's Ladder (1990)

Tim Robbins, Elizabeth Peña, and Danny Aiello

A Vietnam war veteran finds out that his post-war life isn't what he believes it to be when he's attacked by creatures in the subway and his dead son comes to visit him.  Learn why souls don't go to the light.

Regarding Henry (1991)

Harrison Ford, and Annette Bening

A ruthless trial lawyer has his life immediately changes when he is shot in the head during a robbery. Very similar to experiencing a change in values when you survive a near death experience.

Oh God (1977)

John Denver, George Burns, Teri Garr, and Donald Pleasence

When God appears to an assistant grocery manager as a good natured old man, the Almighty selects him as his messenger for the modern world.  

Seven Pounds (2008)

Will Smith, Rosario Dawson, and Woody Harrelson

Will Smith stars as a man who sets out to change the lives of seven people.  The meaning of the movie is explained in the end, but its spiritual meaning is based on Shakespeares "The Merchant of Venice", where a wager is set and the debt to be paid if unfulfilled, will result in "7 pounds of flesh" being taken. 

Up (2009)

I had the opportunity to watch an animated movie called Up.  There is a 4 minute part of the movie in the beginning that chronicles the life of two children that meet, get married, grow old together, and the wife passes away.  No words are spoken, but the film makers did an amazing job connecting to the emotion of 
soul mate energy
.  I'd have to say, it might be the best single representation I have ever seen.