"Love is misunderstood to be an emotion; actually, it is a state of awareness, how we see ourselves and how we see our relationships with others."  -David R. Hawkins

Spiritual Healing in Your Relationship Starts with Understanding Your Environment

You have just poured a giant glass of cold soda over as many ice cubes as you can fit in the glass. The glass seems to come to life with the sound of fizz and the activity of bubbles. Before you drink it down, let's just pretend this glass and its contents represent your life.

The glass itself would represent your world or your environment. It holds all that you will experience in your lifetime. The bubble would represent all the opportunities you will have for relationships of every kind. The ice will represent two things.  The first is the human element of time.  You have just created this wonderful glass of pop but, like all things human, it has a lifecycle.  As the ice melts the bubbles will become fewer and fewer.  When the soda goes flat there are no more bubbles and without bubbles there cannot be relationships. 

The second thing the ice cubes represent is the quality of our relationships.  Bubbles will gravitate and cling to the ice cubes so we call these bubbles our closest relationships.  Just like walking down a busy city street or shopping in a mall, we can't make relationships with everyone in our environment. These are all the other bubbles in our glass of soda. We know they are there, technically they could be relationships because we all share the same environment, but they are not relationships we put any time into.  However, they also represent an infinite source of potential relationships.

Types of Human Love Relationships

Most relationships problems exist because of over-complication.  If you can only evolve by your relationships, then the universe has to provide the opportunity in which you may accomplish this task.  First, it must provide you with the opportunity to have relationships, and second it must provide you with examples and reference points so you may define what a relationship is and develop your relationships to be either "good" or "bad."  

These are types of relationships the universe has provided for you, and in doing so, the universe has given you the opportunity to evolve your soul.  Unconditional love teaches you the emotional goal you want to attain for your conditional relationships.  

Other Spiritual Relationships

The universe provides you with many other opportunities for relationships in your ice cold glass of soda.  For the most part, these relationships are overlooked but do factor into the process of your evolution.  These relationships usually require less of your time but the universe provides them as a teaching skill for you to develop your relationship skills.  Examples of these relationships include:

Relationships with non living things. A car would be a perfect example.

Relationships with your body pertaining to the long term health of it.

Community relationships where you are part of a town, city, state, country, club, etc.

Environmental relationships such as pollution, global warming, etc. 

All relationship problems have something in common:  Neglect.  A day of neglect isn't that significant in itself, but days, weeks, months, and years of "little neglects" can add up to be damaging.  If you ignore the health of your body most of your life and don't invest relationship energy into good health, you will experience a (the Yang) of return energy based on what you put into (the Ying) the relationship.

More Subjects on Spiritual Relationships

This newsletter is about finding your soul mate, but it is based on the same spiritual process you can implement to improving existing relationships, or creating any new path of destiny. 

With special thanks to Dina, a Pisces from Florida, we will be applying spiritual laws to review and fine tune her soul mate creation.

We wrap up this spiritual newsletter series by applying the laws of spiritual growth, and investing our energy to put our plan in motion and find our soul mate.

Conditional Love Relationships

From all the bubbles in your glass of soda, you are provided the opportunity to create conditional relationships. The universe allows you the freedom to choose who your friends, co-workers, and pets will be. You also have the opportunity to create romantic relationships. 

Conditional relationships are based on a very detailed and often undefined set of "rules" you've developed as you go through your life. Conditional love is exchanged between souls when the mutual terms of these relationships are met.

Unconditional Love Relationships

Unconditional love relationships are those relationships you have in your life that you did not choose to have.  Family members are a good example of these relationships. These relationships start with unconditional love.  Generally speaking, a child's birth is a good example of an unconditional relationship.  Sure, you may choose to have a child, but what comes out is unconditionally yours. The universe provides the emotion of unconditional love at birth for the parents and the child which bonds to the parents.

Think of a glass of soda pop as your complete environment. Each bubble would represent all your different  relationships, and the melting ice would represent the amount of time you have to develop and enjoy them.  Obviously, there are many variables moving around in a glass of soda, not so different from the world you live in. Think of the bubbles in a glass of soda like walking down the street in a city.  Spiritual relationships focus on the intensity of close relationships over casual energy used in distant ones.

Copyright 2008 Free Spiritual Guidance.com   Art Licensed by Shutterstock

This Page Was Last Updated On: 10/8/2021
Spiritual Relationships 

Think of a glass of soda pop as your complete environment. Each bubble would represent all your different  relationships, and the melting ice would represent the amount of time you have to develop and enjoy them. Learn how to get the most out of each.

Relationship Solutions and How Spiritual Relationships Work

The universe is very good at putting very simple explanations or "signs" right under your nose.  It is our life experiences that close our minds and not allow us to see what is around us.

Before we provide solutions for relationship problems, it is important we define what relationships are, how they work, and how much power you have to create your own future through spirituality.  We will continue to use the soda analogy because is as complexly simple as the universe.

Relationships are Like the Bubbles in a Glass of Soda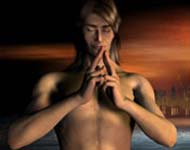 You Can Only Evolve Your Soul Through Relationships
Free Spiritual Guidance

by Jordan Canon, Spiritual Advisor