Copyright 2008 Free Spiritual Guidance.com   Art Licensed by Shutterstock

This Page Was Last Updated On: 10/8/2021
Long Distance and Cyber Relationships

by Jordan Canon

Probably the most popular type of requests for 
relationship compatibility readings
 are coming from people chatting over the Internet in long distance cyber relationships. They can be single people chatting with single people, single people chatting with married people, and married people chatting with married people.
Like 
the universe
, I do not judge what people do, my task is to help souls achieve their goals. The responsibility of creating a goal for your future is up to you. However, if you were going to 
create the perfect soul mate
, and actually take an hour to write down everything that person could be, 
would you write down that your soul mate lived in another country?
 Or another state?  Or was already married?
As I'm sure you have heard me say many times, 
Temptation
 is an energy with only one purpose. It wants to take you away from the path of the light, meaning it doesn't want you to 
evolve your soul
. If your perfect soul mate is married, and lives in another country, then congratulations to you!  You are on 
the right path
.
How Can Cyber Relationships Be So Popular?

I suspect there is an emotional connection and fascination with online relationships. If you are one of the souls that partakes in this activity, do you think the person you are chatting with is really that person, or more of a fantasy you create in your head?  And when you type to this person about yourself, are you painting a picture that might not be 100% accurate?  

If we went back to the beginning of time since humans have been around, I notice we have done a pretty job of finding mates, reproducing, and keeping out species evolving, and all without the help of computers.

In fact, what percentage of our human existence includes computers? I don't know, but it has to be small.

Can these relationships turn out to be happy endings?  Of course.  I recently found a new diet online called The Cookie Diet. Eat cookies every day and lose weight fast. I guess that could work too.

If this type of relationship makes you feel better and is an escape from loneliness, depression, an unhappy relationship, can you see the possible lure of temptation?  To 
harness the power of your soul
 and the light, you have to focus your energies on the issues that seem to make this activity so appealing. 
The universe can only create your future based on your investment of energy and the decisions you make. If temptation has you investing your energy in something other than yourself, what do you expect the results of your actions to be?

One final thought.  How many times have you rushed past your true soul mate, oblivious to their existence, because you're late to go chat with your married chat mate, who only has a limited time to talk because his partner will be home soon?  The universe is always trying to communicate with you, but you have to have your eyes open to see it.

I hope I have given you something to think about.

Please feel free to post and share your comments on this newsletter by visiting 
our blog
.
Are you cheating on me?

"It's only harmless flirting... it's not like I was ever going to meet her."

"We were talking about his girl friends problems."

"Yes I have a girlfriend, but we don't have sex."

"I wasn't sending the emails to her. I was sending them to her computer."

-Caught Online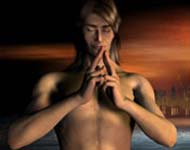 Long Distance and Cyber Relationships
Free Spiritual Guidance

by Jordan Canon, Spiritual Advisor