A Very Touching Set of Photos

These photo were sent in to me by one of our members, Priyas Dubai, from India. 

A female bird is sick or injured.  She can longer fly, and sits alone in a Russian park. 

"Death in the physical is birth in the spiritual. 

Birth in the physical is death in the spiritual." -Edgar Cayce

Her loving mate comes to help her.  He only knows to bring her food.

After a few minutes, she dies from her illness or injury.  Her mate kicks her with his feet to try and get her to move.  

When she doesn't respond, he lets out short bursts of repeated chirps.  Witnesses described the sound as crying.   

He refuses to leave her side. His cries become louder and he moves his head in every direction to make sure he is heard. 

He stops crying and makes a final stand next to his beloved.  He stays by her side for 20 minutes before he flies off.

Harness Your Charitable Energy

All the ancient teachers of all time will tell you the universe is powered by the energy of love.  Not the love that you receive, we often seem so focused on what we are not getting, but the love you give to your relationships with your charitable energy.  Learn this, and the universe will return your energy in ways you cannot imagine.

Post Your Thoughts or Comments

Use the form below to post your thoughts or comments.

YOUR THOUGHTS OR COMMENTS

Recent Postings

A mixture of tears and joy for me as this loss hits home. 6 years ago My mate of 34 years went onto his next journey and left me in the love and comfort of 6 children, who daily remind me of him. I feel closer to him now and I feel his spirit helping me each day. I found this site 6 years ago and have learned and experienced so much. The Universe has returned energy to me in ways I never imagined to live past this loss and to live a better spiritual life that I knew was there for me. Take heart and courage, all is possible with faith.

Belle, Gemini

The adornment that this male has expressed for his mate is so profound....I have this felt this kind of love and adornment for my mate!!! My Shawn!!!

Esther, Leo

This Is Sad.When My Bird Died The Partner Did This Same Thing but He Ended Up Lying Next To Her And Then Passed Too:/ Its Always A Heartbreak To Lose The One You Love But Through Out It All You Can Always Become Stronger 💘

Erica, Taurus

This was so beautifully heartbreaking (if I can use those two words together). No series of photos has ever touched my heart as profoundly as this one did, and I am truly changed by it. I can only imagine how the photographer felt. Thank you for sharing it. I am so glad I stumbled upon this website, and I have a feeling I'll be visiting often...

-Ellis, Sagittarius

Touching last moments shared together...I'm excited to have found your website and know that it will help to find guidance to enlightenment. 

-Carlo, Libra

Touching indeed! This is a call to all mortals......Animals can  express love and care ......with no schooling...no money...just pure time and energy giving we can change the world....

-Cris, Libra

Devastating.  The only corner of light I can tear from the darkness of these photos is my memory of rescuing a similarly injured bird in Albuquerque, New Mexico.  I found her on a nature train, was advised to put her inside a dark box, and keep her over the weekend until she could be taken to a bird vet.  I did so.  Good Lord did she ever cry, shriek and

holler through that weekend, but reports say she recovered from her broken wing and went on to mother baby birds.  I hope her partner found her and the story ended in a happier way than this one.

All I can say looking at these photos is Universe Help Us All.

-Deidre, Libra

When Love comes from the heart, it remains forever. You will continue to love the person irrespective of the person reciprocating. When love comes from the mind, it becomes more of give and take. You love me, so, I love you. Love from the heart can last life times and you can connect with the person again as a Soul Mate or Partner. When love comes from the mind, it lasts for a season or a reason.

-Anish Sawjiani, Scorpio

Copyright 2008 Free Spiritual Guidance.com   Art Licensed by Shutterstock

This Page Was Last Updated On: 10/8/2021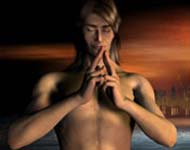 A Spiritual Guidance Lesson
Free Spiritual Guidance

by Jordan Canon, Spiritual Advisor

Amazing, I have only begun this journey on Tuesday of this week, I am impressed, I am very elated that I was directed to these pages, it's just what I need right now in my life after breaking up with a man that I spent 17 years with, this site not only helps me to understand the dynamics of spiritual living, this site also helps me to see me...good bad or indifferent. Peace & Blessings to you all~ Love

-Doris, Capricorn

This is why I am who I am and remain true to love without looking with the carnal eye. I love because I have it inside of me not because I want it in return. It is and exists merely because I do.

-Mia, Virgo

So very touching.

Just like humans he is desperate to save her, to fix her;  food, touch to rouse her awake, cries for help, unable to leave her even after she has passed.  The photo of him bringing her food (makes me smile-through the sadness) when it is clear that food isn't the solution....Like the bird we humans so often want to do anything to re-write the present rather then to see the obvious, anything but to accept what is happening right in front of him, to accept that life is ending...  I can feel his panic and pain escalate through each shot...

The "Loss of a Love" it is excruciating.   Yet, the loss we experience from loving and being loved is always worth the pain that inevitably follows.... 

I wonder if we achieve the ability to "harness the light"  expand our souls where there is no regret, even if its just one relationship; does it hurt less or more when that love ends or is taken from us???

sorry about the rambling...

-Christina, Pisces

I cannot begin to explain how excited & blessed I am that I found your web site !! You are everything I've prayed for & more !! and it's hard deciding what to read 1st !!  This site is one I'm giving to all my friends right away & Thank you so much doing what you and for being YOU !!

-Tina, Gemini

This is just so upsetting to see how this poor little bird mourns for his partner and stays by her side for 20 minutes. Its so sad but yet so beautiful at the same time.  I am very close to animals and I think that they are all angels sent down to help us, as they have always been there for me throughout the hard times in my life journey. But to know that they are with me all the time makes me stronger everyday xxxx

-Lauren, Leo

"The Animal Kingdom has so much to say to us - and does not need words to do so." -Joie, Libra 

"I love you always!"  -Teresa, Libra

"Beautiful!  Blessings to your growth and anniversary." -Reverend Camille, Cancer

"So touching and beautiful!!!!"  -Vic, Libra

My first inclination was to post a concern of mine or   a "profound" comment then I reread  about "not getting, but the love you give...." and decided to send ....  All we need is faith hope and love that's all that really matters, we need some faith hope and love to share amongst each other, I need some faith hope and love to reach out to my brother.

-Marie, Aquarius

This sequence of photos speaks to me. It shows me that the emotional path of all beings is the reflection and refraction of love in as many ways as love is infinitely possible. We try to help one another, seeing ourselves reflected back, knowing that in that situation we'd want the same loving kindness we have to offer. But things do not always turn out the way we hope. 

We are either closed to creative solutions by only seeing the present picture, or we are too focused on our own knowledge to allow some inkling in our thoughts to blossom into action. Sometimes what we have to offer is not what someone else needs, as in the case of the birds. But his love for his mate is strong. He gives her everything he can before he needs to move on himself. This is a touching story.

-Gabi, Aries

These beautiful photos have made me think more than words ever could.

-Janette, Pisces

At first I felt joy,that it does not make a difference what species we are we know,feel and give love.Then on the end of this birds journey I was sad in physical realm but happy in spiritual because it is true physical death means new birth in SPIRIT.

-Milisa, Libra

These photos are so sad  Loss of love through death is so painful. However they serve as a powerful reminder that love exists everywhere, even in the smallest of creatures.  I only hope they find each other again someday.

-Samantha Baker, Aries

 I was touched at looking at the photos of the two birds together,you see the LOVE,PAIN,and FEEL for them,tugging at my heart and couldn't stop myself crying:-(WORDS cannot describe what your heart really feels only another's heart could)...LOVE and LIGHT always! 

P.S. Hopefully people that hurt animals just for the sake of sick fun and whatever else, will see birds and feel something deep within.

-Selina, Aries 

Thank you for the realization that the desire to heal is realized by the universe, causing the universe to try to reach you in different ways to wake you up. Knowing this strengthens my heart. Self caused blindness instilled a force that removed faith, replacing it with fear and doubt. But within the desire to heal one can be rewarded with enlightenment, a blessing from the universe. :) shalom namaste.

-David Rose, Gemini

What an amazing sequence of a love story, there is love, charity and compassion all aroud us.I could see the love, the hope the fear and finally the aceptance of losing someone you love. Simply amazing!

-Daniela, Virgo

Believe me when I tell you Jordon, some years ago as I was driving down a block and got to the corner I looked to my right and on the ground right at the curbs edge was a scene much like this one with two birds that look much like these. As I observed my heart went out concerning the situation, I then began to pray and speak life to the injured bird telepathically. After having watched for several moments the bird remained immobile at which point I decided to get out the car as to remove the bird from the edge of the curb and place it in a more suitable place like some dirt or grass in the near area as it was presently on the concrete, and God be glorified as soon as I stepped my foot on the ground after having opened the car door, both birds flew away. It was a miracle that brought so much joy to my soul that I began to weep. As soon as I got home I expressed to my loved ones with elation of how this inspiring incident had just transpired. I will never forget it Jordan! 

I want to mention of course thats its no coincidence  that this was posted as to remind me of such, particularly after the last few years of my life has been very trying and turbulent. 

Im reminded of the energy and strength that lies within as to overcome temptation which often beckons my weaknesses to emerge.  

-Trine, Scorpio

Both birds male. Not love, war. Better, truer, no anthropomorphizing. Birds fought in air, defeated one falls. Victor lands to gloat. Loser dies. Winner whoops and departs.

-Aurelio, Cancer

Wow - this really does touch your soul - how sad but how beautiful at the same time xxx

-Karen, Libra

Oh to love and to be loved is the greatest thing on earth!

-Dee, Leo

This was heart wrenching and amazing at the same time.  We all have ways of communicating to each other and it's really awesome when we see animals and can feel what they're feeling or trying to say!!! And animals (pets) comfort us when they see or feel that we're not having a good day or are sick......

God is Awesome, We are Awesome because of HIM (seeing is believing)

-CT, Capricorn