Copyright 2008 Free Spiritual Guidance.com   Art Licensed by Shutterstock

This Page Was Last Updated On: 10/8/2021
This started out as just a topic for a newsletter, and grew into an annual event. Thousand and thousands of people from all over the world come to see who are winners of this now prestigious award.

The annual award is given to people who exemplify, and provide an example for, outstanding achievements we would like to attain in our own relationships. It is only through our relationships that we can evolve our souls.

Since we can only evolve through our relationships, the award is not only limited to lovers. It can be awarded to friends, family, co-workers, and any type of relationship we all have in our daily lives.

Here are the past and current recipients of this award:

Do You Have A Suggestion for This Year's Award?

All members are invited to submit their suggestions for the annual soul mates of the year award. In the space below, please submit your nomination:

Thank you for taking the time to share your thoughts. You will be notified if your nominee wins this years' award.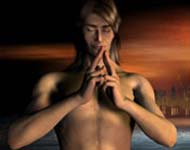 Past and Present Soul Mates of the Year
Free Spiritual Guidance

by Jordan Canon, Spiritual Advisor