Copyright 2008 Free Spiritual Guidance.com   Art Licensed by Shutterstock

This Page Was Last Updated On: 9/30/2023
It takes a special person to be willing to take a back seat to your popularity and glamorous life. That being said, the top prize for compatibility goes to Aries. Aries strides in with their beauty, fitness and charisma and woos the strong Leo right off their paws. 

Aries is the trophy Leo seeks. Aries is well-spoken and confident in all they do, which appeals to Leo on many levels. Aries is the baby of all zodiac signs. That being first, they act much like the baby of any family. They like to be put first, so keep that in mind Leo.

Leo's are enchanted by Sagittarius' high-spirits and charming ability to be happy all the time. Leo's tend to rely on Sagittarius' sound judgments and honesty to lead their lives in the right direction. The teamwork these two share can be a lifelong journey of happiness and adventure, highlighted in your Daily Leo Horoscope.

#3 
Leo and Libra
: Grace and Sophistication Lends Itself to Leo's Lifestyle
The ever-gracious Libra is another solid companion for Leo. The sophistication and social etiquette of Libra is a perfect partner for Leo's high society lifestyle. Libra will always make Leo look good. You will learn from your Daily Leo Horoscope that Libra is also the life of the party and as a result, will enhance any function Leo attends. After leaving an engagement, Leo and Libra will be the talk of the party as that "perfect couple".

Leo is the entertainer and king of the spotlight. He lives in high society. Cancer, with her good looks and popularity is a perfect fit. As you will discover in your Daily Leo Love Horoscope, Cancer's natural sense of nesting is just enough to keep Leo grounded without feeling controlled.

The Best Astrology Signs for Leo Compatibility

These compatibility rankings are based on sun signs only.  A detailed 
Spiritual Astrology Reading
 will map your exact personality and character traits to all the planet positions, at the exact time and location of your birth.
A 
Compatibility Reading
 will match your soul to the soul of your partner in the same manner. You will learn this type of reading is much more complex than this.
Leo's love of spotlight attention can make for some serious fights if another Leo steps in and wants the same attention all to them. These strong willed, demanding signs can wind up going to battle. The warning signs will be in your Daily Leo Horoscope. If you love to fight, then seek a fellow Leo.

Taurus is much too earthy and humble to be considered a good match for you, Leo. Taurus' are humble and can be shy. Though, if you decide that cooking parties are your thing, then make sure to hire a Taurus.

Leos are not impressed with Scorpio's secretive nature. This makes them a less likely companion to be considered. Leos too high profile to have secrets or even self-destructive behaviors associated with them.

Another humble creature is the Aquarius. They tend to be much too humble and shy for Leo to take seriously when looking for long term relationships. Aquarius' charm and charitable spirit can make for great conversation starters at one of Leo's many galas. An interested Leo is a good learner, and an interested Aquarian is a great teacher. Feeling an attaction? These two signs are exact sexual opposites that draw like a powerful magnet, and some say the strongest in all of astrology. You will need to consult your Leo Love Horoscope daily to keep the energy going because it won't be easy.

Leo Astrological Personality and Compatibility Reports

These are very detailed reports, and are done by souls donating their time and energy to help you attain your 
Spiritual Growth
.  You are invited to request one, but we do require you be an active member of our weekly newsletter.    
Compatible With Leo
Gemini's beauty comes from being the life of the party, without trying to steal Leo's spotlight. She compliments Leo everywhere they go. People love to be around both of you. Leo just needs a little time to get used to Gemini's flightiness, and you can get help with that by reading your Daily Leo Horoscope.

Leo being in the spotlight can appear shallow at times. Pisces has creative, artistic abilities. It's being able to associate with everyone that makes her the princess of the party. Pisces will charm all who they come in contact with. This charming being brings depth and texture to Leo's mistaken shallow personality.

Leo is self confident and needs someone like-minded. Capricorn has insecurity issues that get in the way of establishing a good, solid relationship with Leo. Capricorn is also vulnerable, which is not conducive to Leo's limelight exposure. Capricorn would get hurt too easily in Leo's world, so look for those signs in your Daily Leo Love Horoscope.

Virgo is notorious for worrying and asking what if. Leo's can't seem to wrap their mind around the concept of this. Leo's confidence and connections gets him everywhere without a second thought. Virgo's worry would cause Leo to be too uptight and not be able to enjoy himself. This wouldn't last long before Leo would call it quits, and can even be a challenge for your daily Leo Love Horoscope.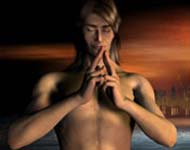 Easy and Most Challenging Leo Compatibility Relationships
Free Spiritual Guidance

by Jordan Canon, Spiritual Advisor

Learn the best relationship matches for your sign and find out which ones will be the most challenging for your soul as a tool to help you evolve and improve your relationship through advanced communication skills.

Most Compatible

Most Challenging